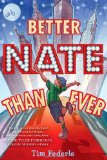 Better Nate Than Ever
Review posted January 3, 2014.
Simon & Schuster Books for Young Readers, New York, 2013. 288 pages.
Starred Review
2013 Sonderbooks Stand-out
: #4 Children's Fiction
Here's a book loaded with charm.
Nate is a kid who dreams of starring on Broadway. But he's also a kid who gets bullied.
Life hasn't always been easy (my first word was "Mama," and then "The other babies are teasing me"), but at least I'm singing my way through eighth grade, pretending my whole existence is underscored.
His best friend Libby, also a fan of Broadway musicals, has learned there's an open casting call for Elliott, the child star of E. T.: The Musical. So Libby and Nate form an elaborate plan for Nate to get out of his hometown in Pennsylvania while his parents are away and his brother Anthony is in charge. He'll go to the casting call and get his big chance.
Naturally, things start going wrong as soon as Nate sets out. And his cell phone dies, so he can't answer Libby's frantic texts. Fortunately, he has an aunt who lives in New York, an aunt who has been estranged from Nate's mom for years and isn't exactly expecting him. But she knows how auditions work and helps Nate brave the process.
This book looks at the audition process in New York with lots of humor and lots of heart. The portrayals of the other kids and parents, intent on getting the part, ring true. But mostly, Nate shines exactly like the star he's destined to become. Great fun.