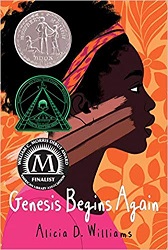 This book begins as thirteen-year-old Genesis Anderson walks home with the popular girls – to see all her family's possessions on the front lawn. They've been evicted from their apartment again.
But after dealing with that, her father takes them to a fancy new home in the suburbs. Genesis starts at a new school, and she wants things to go well there. She starts singing in the choir and even thinks about auditioning for the talent show. And has she finally made some real friends?
But her father isn't exactly being honest about things. Her mother's thinking about leaving, and Genesis isn't ready to leave again. Time with Grandma confirms that everyone's disappointed that Genesis ended up with dark skin like her father and not light skin like her mother. Genesis is willing to do anything to make her skin lighter. Then she'll be beautiful and maybe her father can love her.
I'm going to be watching this author, because even in this debut novel she pulls us into Genesis' world and all the different pressures surrounding her. It doesn't all wrap up in a tidy bow, but Genesis is starting to learn to love herself, and the book ends with the reader reasonably hopeful that Genesis is going to deal with whatever the future holds.