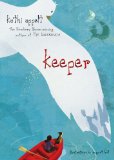 Keeper
Reviewed April 7, 2011.
Atheneum Books for Young Readers, New York, 2010. 399 pages.
Starred Review
2011 School Library Journal Battle of the Kids' Book Finalist
In honor of the finishing of School Library Journal's Battle of the Kids' Books, I'm plannning to review the remaining books that competed, but which I hadn't yet reviewed. It seems fitting to next tackle Keeper, which made it all the way to the Big Kahuna Round, defeating three excellent books along the way.
I read Keeper at the start of the year, after hearing great things about it on the Heavy Medal blog, where people discuss possible Newbery winners. I would have liked to have seen it win an Honor, because this is a truly beautiful book.
This time, I'll start by giving some highlights from the Battle of the Books judges:
In the first round, Susan Patron eloquently told us why Keeper is so powerful:
Keeper is heir to the oral tradition; the narrator's voice is powerful and always present, creating an exquisite tension between what we know is fiction and our urge to hand over our hearts to it anyway. And this narrative switches easily from the points of view of a girl, a couple of dogs, a cat, a seagull, an elderly gay French grandfatherish neighbor, a young stuttering war-veteran surf-shop owner, and more; it shifts from past to present tense, from lyrical to earthy. As ten-year-old Keeper gets deeper and deeper into a dangerous situation, all the characters' back stories and the setting itself enrich the drama and give it texture. Keeper's wish, her desperate need, is to find her mother and, under a blue moon, she does—though it's not the mother she expected. All three of us, my inner librarian, my inner writer, and my inner tween savored every word, and the many surprises that were gradually revealed.
In the second round, Naomi Shihab Nye also waxed eloquent about Keeper:
Keeper is resident of a motley, miniature community down on the Texas Gulf coast. She loves her dog BD and her pet seagull Captain who adores watermelon. Her alleged "mermaid mother" Meggie Marie abandoned her 7 years prior to a mid-western escapee called Signe who is only 25 herself. I kept doing the math…Their neighbors, the stuttering Dogie who rents surfboards and the elderly Mr. Beauchamp, still longing for his young love Jack from France, as he waits for his night-blooming cyrus flowers to pop open, create a sleepy, somewhat surreal swoon of neighborhood texture for a little girl to wander dreamily through. Keeper waxes surfboards for Dogie, saves her money, watches the waves and tides closely, lives in a rich drift of fantastic thinking. She wants to see her mother again. And she's ready to make it happen on the rare night of the "blue moon." This is a gumbo-rich brew of magical farfetched wishing – spells – plans and lists – melodrama launched in a small rowboat…chapter 55, about all the oceans of the world being connected, is a gem-like poem shining at the heart.
Have you noticed all these judges are lyrical in describing Kathi Appelt's lyrical language? In Round Three, Grace Lin was no different:
When I read the book, suddenly the magic became apparent. I loved the slow unveiling of each story, the way the back and forth narratives seemed to echo the motion of the ocean waves that rocked Keeper's boat. I found the fantasy elements of Yemaya and Jacque der Mer enchanting and I could feel the heartbreak of each character. Even the animals—the dog BD and the crow Captain had fully-realized personalities.
The blurring of myth and reality was seamless and the writing was poetic, yet always accessible. But most of all, the theme of the story—that love of all kinds, even the untraditional, are worth keeping— and how it was conveyed was just beautiful.
Even Richard Peck, the judge of the Final Round, who didn't choose Keeper, was impressive in its praise:
To cope with this maternal absence and abandonment, Keeper has recast her mother as a mermaid who has swum away. By this childhood logic, Keeper herself has merblood and the borrowed lineage of "Signa and Lorelie, the siren, the ningyo, and the rusalka and the Meerfrau," all the mystic mother figures of the deep.
Kathi Appelt's story captures that time at the outer edge of childhood when the fantasies that have always kept you safe no longer work. Keeper's fantasy folds all in a single action-packed twenty-four-hour period (though it feels longer), the night of the blue moon. Keeper's belief in her aquatic DNA leads her into a series of descending missteps. She frees clamoring crabs meant for the gumbo, and before she knows it she's literally out of her depth, in pursuit of a mermaid mother.
This book is a keeper for its gentle tone in chronicling that jarring moment when you can no longer afford to be as young as you've been. Every book for the young is the story of a step, and in these pages a girl takes a big one. Where it will lead her, we're less sure. But that's what sequels are for.
My own reaction to Keeper was that it was very slow-moving. In the middle, I almost stopped. Another thing that Grace Lin said pertains:
Keeper is a book that needs you to be present to appreciate it. It's not a story that can be half listened to or quickly skimmed, because then you miss the wonder. Appelt reveals the story like ocean waves lapping away bits of sand on a beach until a treasure is uncovered. And it's the serene watching of the waves, not the sparkling pearl, that creates the book's charm.
I did stick with it, and by the time I finished, I was completely enchanted and caught into that world with lots of love and a touch of magic.
Truly a beautiful book. I can't resist saying it: Definitely a Keeper.