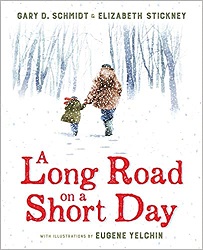 A Long Road on a Short Day
Review posted December 14, 2020.
Clarion Books (Houghton Mifflin Harcourt), 2020. 60 pages.
Starred Review
Review written December 10, 2020, from a library book
2020 Sonderbooks Stand-out
:
#6 Children's Fiction
A Long Road on a Short Day is a gentle but engaging story for kids ready to start chapter books. There are twelve short chapters with large print. The pictures show us that the story is set in a time before cars, in a farming community that gets cold in the winter.
This is one of those stories about trading up, about making a series of trades and ending up with something much better than what you started with. But I love that everyone who makes a trade in this book is convinced they made a good trade. It's a story about a community helping each other out and everyone ending up happier.
Here's how the book begins:
Early on a white January morning, Samuel's mother said, "I do wish we had a brown-eyed cow to give us milk for the baby."
Samuel's father set down his mug.
"And for your tea," she said.
Samuel's father smiled and got up from the table. He took his best Barlow knife from the mantel and said to Samuel, "Dress warm if you're coming with me."
Samuel ran to get his coat off the hook. "Where are we going, Papa?"
"To find that brown-eyed cow for your mother," Papa said.
There's a strong sense of time constraint, as each chapter ends with a reminder that it's "a long road on a short day." First they look up at gray clouds, then a dark sky, then a few snowflakes, then a dusting of snow, then thick and dark clouds, then a storm, then steady snow and a low sun with gusts of wind.
Finally, after a series of stops and a series of trades that each neighbor confirms is a good one:
The snow was falling fast and the light was almost gone when Samuel and his father turned toward home. They walked down Hurd Hill, past the tall white pines, past the Everetts' farm, toward the Wire Bridge and town. "Come, Bossy," said Papa.
Along the way, Samuel wishes several times that a brown-eyed cow wasn't what Mama had wanted. So it's all the more delightful when the final farmer throws in something special for Samuel.
The authors don't have to tell us that Papa is clever and observant and knows his neighbors well. He manages the trades beautifully, and he and Samuel have an adventure of a day, even if it is a short one with a long road.