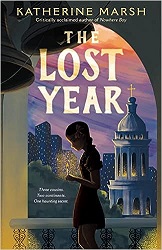 The Lost Year
Review posted July 28, 2023.
Macmillan Young Listeners, 2023. 9 hours, 5 minutes.
Review written July 9, 2023, from a library eaudiobook.
Starred Review
This book begins with Matthew, a boy bored at home during the start of the Covid pandemic. His 100-year-old great-grandmother, Gee-Gee, has come to stay with him and his mother, so they are being extra careful to keep the virus away.
Yes, that's a slow start. But when Matthew's mother takes away his video games and assigns him to help Gee-Gee go through boxes, he uncovers the stories of two other girls from 1933. And an old picture of two little girls makes Gee-Gee start crying -- because she says there should have been three girls.
And what unfolds is a story of Ukraine during the Holodomor -- a famine during which millions of Ukrainians died. We get this story from the perspective of Mila, whose father is a high-ranking Communist party member, and from Helen -- a Ukrainian girl living in America.
Mila lives a life of privilege, believing that Papa Stalin and her own Papa will take care of her. And believes the stories her father tells her that any problems are caused by the dirty peasants in the countryside who refuse to collectivize their farms. So when a malnourished girl shows up at their doorstep claiming to be her cousin who says her whole family starved to death, Mila doesn't want to believe her.
Meanwhile, in class in America, Helen's teacher reads an article from the New York Times from a correspondent in Moscow saying that no one is starving in Ukraine. But Helen's family has gotten a letter from their Ukrainian cousin begging for help, and she knows other Ukrainian American families who have received similar letters. So she collects stories and writes to the Times, but they tell her she needs first-hand accounts. That her reporting isn't good enough.
Of course, one of these three girls is Gee-Gee, and we also know that one of the three is not going to make it to America. The book snowballs in tension as it progresses, telling the gripping story of a tragedy the Soviet Union covered up for decades, one that readers won't know much about. (I certainly didn't.) It's unfortunate how timely it is, as the author had this book written before the attack on Ukraine brought the country back into the headlines. I hope that will lead more kids to pick up this book.