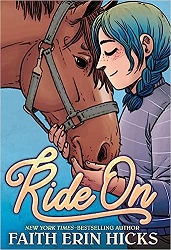 Ride On
Review posted June 23, 2023.
First Second, 2022. 220 pages.
Review written May 9, 2023, from a library book.
Ride On is a sweet graphic novel about making friends - and riding horses.
The book starts with a new girl at the riding stable, named Victoria. At first, she rebuffs the overtures of one of the regulars. We learn that she had a falling-out with her best friend at the other stable because Victoria decided to have a gentler summer and not focus on competing in shows. So now, she hopes to just focus on horses and not mess with human friends.
But humans have a way of getting into your heart. The book has lots of interactions with people and with horses. My heart was warmed by an adventure at the end with Victoria and her new friends.
Graphic novels are always popular with their accessible story-telling, and this one will especially appeal to horse lovers.