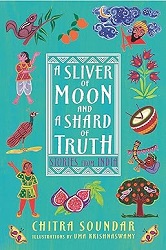 A Sliver of Moon and a Shard of Truth
Review posted October 2, 2023.
Candlewick Press, 2022. First published in the United Kingdom in 2021. 101 pages.
Review written April 3, 2023, from a library book.
A Sliver of Moon and a Shard of Truth is a sweet beginning chapter book with stories of two clever boys solving problems in surprising ways.
The author explains at the back that when she grew up as a child in India, her favorite stories were trickster tales. She has reimagined those stories as adventures of Prince Veera and his friend Suku, a farmer's son. She's done a wonderful job keeping the spirit of the folktales, with the added bonus of clever children outsmarting adults.
There's an earlier book about Veera and Suku, Mangoes, Mischief, and Tales of Friendship, but I understood this one fine without having read the first.
At the start of this book, Veera and Suku are well-known for their prowess in solving problems, and Veera's uncle, Raja Apoorva, has invited them to his kingdom of Peetalpur. This book covers four stories of their time there, with problems such as tricking a peahen into singing, winning against a powerful wrestler, unmasking a burglar, and arbitrating a dispute over a fig tree.
Chapter books for beginning readers are always fun when they have a reward of a clever twist in each story, and these fit that description nicely. Give this to kids ready for chapter books or use as a read aloud for everyone's entertainment.