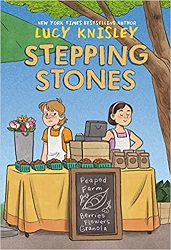 Stepping Stones
Review posted February 7, 2021.
RH Graphic, 2020. 218 pages.
Starred Review
Review written July 22, 2020, from a library book
2020 Sonderbooks Stand-out
:
#10 Children's Fiction
It's a winning formula: A graphic novel about a kid navigating middle school, based on the author's own life. After all, there's so much material in our lives at that age for humor and pathos.
Stepping Stones doesn't include any scenes at school, but it's based on what the author went through at that age. Jen's parents have split up. Jen's mom is following her dream and moving to a farm in the country with her boyfriend. The author sets us up concisely by showing Jen in a room surrounded by boxes making a list of things she misses about the city and things she HATES about the farm.
The number one thing Jen hates is the chores. And right away we see the adults telling her how much they expect as they set up a chicken coop and get ready for their order of chicks to arrive. They're going to be Jen's responsibility. And at the Farmer's Market booth, she's expected to help – even though doing the calculations to make change is a challenge.
But things get extra interesting when Jen's mom's boyfriends' two daughters start coming to the farm every weekend. Andy, the girl who's Jen's age, is a big know-it-all and bosses Jen around. When Jen complains, she's called a Drama Queen.
The summer goes on and we watch a family forming before our eyes. Everyone does have their annoying quirks, but they find ways to connect and come together, and they all have contributions to make for the success of the farm.
I hope that the kids who've loved Raina Telgemeier's and Victoria Jamieson's and Jerry Craft's books will find Lucy Knisley's as well. It's a warm and humorous graphic novel about farming and stepfamilies and new experiences.