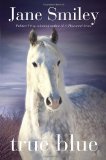 True Blue
Review posted May 22, 2012.
Alfred A. Knopf, New York, 2011. 297 pages.
I read this book when finishing up my vacation in Oregon, because staying with my Auntie Sue made me hanker for a horse book. Auntie Sue had horses when I was small, and I also loved horse books then.
I enjoyed True Blue, but I'm wishing that I'd read the earlier two books about the Lovitt family first. There's a nice horsey atmosphere which I was looking for, but the resolution of the drama in this book was rather unsatisfying to me. I think the book would have affected me more if I were already caring about the Lovitt family and invested in whether or not Abby's brother Danny reconciles with their father.
In this book, Abby gets a new horse named True Blue. His owner died in a traffic accident, and no one at the stable knew anything about her. Abby works with True Blue. He seems unusually nervous. Then Abby starts seeing ghosts. Is Blue's former owner haunting her?
Meanwhile, Abby breaks her wrist and can't ride. So she starts helping train students, including her best friend. And her brother Danny comes around to help on the farm -- which adds lots of tension.
As I said, I enjoyed this book, but think I would have enjoyed it more if I'd read the others first. It's a quiet book, but a nice story. I do think I'll go back and read The Georges and the Jewels and A Good Horse, because sometimes it's nice to read a good horse story.