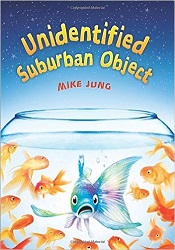 Unidentified Suburban Object
Review posted September 10, 2016.
Arthur A. Levine Books, Scholastic, 2016. 265 pages.
Chloe Cho has always felt different. She's the only Korean student in her entire school in her town of Primrose Heights. And her parents won't tell her anything about their background. When she tries to research her roots, they react strangely and change the subject.
So Chloe's excited about the new social studies teacher at their school – Ms. Lee, who's Korean. Maybe Chloe can finally talk with someone about her heritage.
But when Ms. Lee's first assignment is to write down a family story, Chloe's parents simply won't cooperate. They buy Chloe the new violin she's wanted for years – could it just be a distraction?
Eventually, Chloe learns that she is even more of an outsider than she had thought. Then she has to figure out what to tell her best friend, who couldn't possibly believe her, could she?
This is a middle school story about friendships and family and fitting in. Along the way, it asks some thought-provoking questions and makes you wonder about some things our society takes for granted.