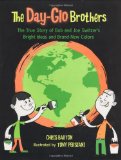 The Day-Glo Brothers

The True Story of Bob and Joe Switzer's Bright Ideas and Brand-New Colors

Review posted March 24, 2011.
Charlesbridge, 2009. 44 pages.
2010 Sibert Honor Book
Here's a picture book biography that will engage the reader. It's accessible and interesting for kids, but also offers information that adults will find interesting.
The brothers Bob and Joe Switzer had plans to be a medical doctor and a magician. But when Bob was laid up after an accident, the two brothers were playing and experimenting with ultraviolet light. One of the chemicals in their dad's drugstore gave off a yellow glow.
That glow lit up the Switzers' imaginations. They brought home lots of books from the library and began learning how to use different chemicals to make glow-in-the-dark paints. In regular light they looked plain, but under the ultraviolet light they radiated bright, attention getting colors.
Bob thought they could use the paint for more than just Joe's magic act. They could sell it for use in store-window displays and make a little money to help cover Bob's medical bills.
Their fluorescent paint was indeed a big hit, and found many popular uses. But their business really took off when they discovered a way to make the colors glow even in the daylight.
The pictures in this book magnificently illustrate the story. A retro, cartoony style is used throughout. At the start, the pictures of their early life are done in black and white. When they invent the fluorescent paint that glows in the dark, that's done with light fluorescent colors. Then, after they develop the Day-Glo colors, entire pages are covered with the eye-popping colors.
The book tells the many ways their product ended up being used, including on safety equipment during the war. I like the author's summing up:
When they were growing up, Bob and Joe Switzer wanted different things. Bob wanted to make his fortune by becoming a doctor, and Joe wanted to make his mark on the world through magic. At first it may seem that neither brother ended up where he wanted to be. But in that darkened basement, the Switzer brothers began to look at the world in a different light.
One brother wanted to save lives. The other brother wanted to dazzle crowds. With Day-Glo, they did both.