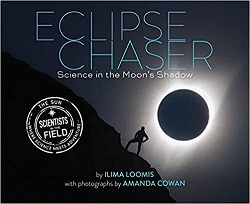 Eclipse Chaser
Science in the Moon's Shadow
Review posted May 3, 2021.
Houghton Mifflin Harcourt, 2019. 80 pages.
Review written April 27, 2020, from a library book
Starred Review
Eclipse Chaser is part of the wonderful Scientists in the Field series, which uses the tagline, Where Science Meets Adventure. These books show actual scientists on actual expeditions. They explain what the scientists are trying to figure out, the importance of their endeavors, and the obstacles, challenges, and successes they meet with.
This book features the scientist Shadia Habbal and her expedition to get vital scientific information during the Great American Total Solar Eclipse of 2017. This makes the book especially pertinent, since many of the readers, like me, will have experienced that eclipse themselves.
It tells about the many other total solar eclipses Shadia has seen, how that gives her an exceptional look at the sun's corona, and about some of the breakthroughs she has discovered in her previous work. Shaddia is studying solar winds, and to do that, she uses special filtered cameras that show the location of certain elements in the sun's corona, as well as photos of certain iron ions that give the temperature in the corona where they're present.
The book is full of photographs. There's plenty of drama about setting up all the expensive equipment to take photographs in a short period of time. Since I was present for a solar eclipse in Germany in 1999 where clouds covered the sun in the last minute before totality, I was extra appreciative of those worries. We were told about past expeditions where weather wiped out all their plans.
It's all fascinating information that helped me understand better why solar eclipses are so important for scientists. There are several photos of the sun's corona taken during eclipses to help you grasp what they can find out and understand what they're talking about with the term "solar wind."
A map in the back of paths, dates, and durations of solar eclipses between 2011 and 2060 says there's going to be another total solar eclipse in America in April 2024. We'll want to prominently display this book on our library shelves when that event approaches.