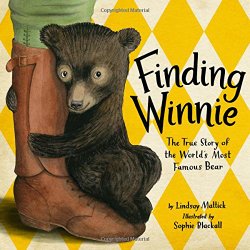 Finding Winnie
The True Story of the World's Most Famous Bear
Review posted January 21, 2016.
Little, Brown and Company, New York, 2015. 52 pages.
Starred Review
2016 Caldecott Medal
I didn't think I'd review a second book about the true story of the real bear after whom Winnie-the-Pooh was named. The first one I read was complete and most delightful.
But then I read Finding Winnie and fell in love. In the first place, it's got Sophie Blackall's wonderful illustrations, which won me over quickly. But as well, the story is told with the frame of a mother telling the story to her son – and that son happens to be Cole, the great-great-grandson of Harry Colebourn, who bought the bear Winnie in Winnipeg on the way to World War I.
Besides giving all the facts, there's a lilt to the storytelling and interruptions along the way by Cole, which are reminiscent of Christopher Robin's words at the start of Winnie-the-Pooh.
Here's where Harry sees the bear cub at a train station:
Harry thought for a long time. Then he said to himself, "There is something special about that Bear." He felt inside his pocket and said, "I shouldn't." He paced back and forth and said, "I can't." Then his heart made up his mind, and he walked up to the trapper and said, "I'll give you twenty dollars for the bear."
"Is twenty dollars a lot?" asked Cole.
"Back then?" I said. "Even more than a lot."
The photograph album at the back is especially charming. I like the picture of Harry's diary turned to the page for August 24, 1914, where it says, "Bought bear $20."
Of course, after Harry's story, we hear about Christopher Robin Milne and his friendship with Winnie. But then Cole brings it back to Harry, and his mother tells him that Harry had a son named Fred, and Fred had a daughter named Laureen, and Laureen had a daughter named Lindsay.
Framing it all as a story of a mother to her child is what sends it over the edge into wonderful.
And then I had a son.
When I saw you, I thought, "There is something special about that Boy." So I named you after your great-great-grandfather: Captain Harry Colebourn.
I named you Cole.
"That's me?" said Cole in a whisper.
"That's you."
"And that's Winnie?"
"Yes," I said. "That's Winnie."
"And it's all true?"
"Sometimes the best stories are," I said.
Sometimes they are.