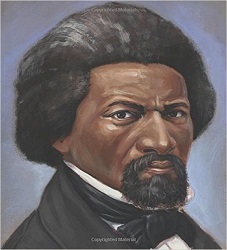 Frederick's Journey
The Life of Frederick Douglass
Review posted July 15, 2016.
Disney Jump at the Sun, Los Angeles, 2015. 44 pages.
Starred Review
Here's another striking large format picture book biography from Doreen Rappaport. Like her biography of Theodore Roosevelt, To Dare Mighty Things, the bold painting of the subject on the cover sets the tone.
She has a gift for telling important things about a subject even in the short picture book form. Of course, the large paintings by London Ladd keep the reader engaged. As with To Dare Mighty Things, the author includes quotations on every spread.
Frederick Douglass's story begins with his childhood as a slave. It goes on to tell how he worked hard to learn to read and eventually gained the hope that motivated him to seek his freedom. After that, he worked tirelessly to spread freedom to others.
The quotation at the front of the book sums it up well:
You have seen how man was made a slave;
You shall see how a slave was made a man.
This book shows you Frederick's story, so you can see his journey yourself.