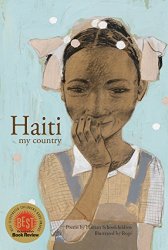 Haiti

My Country

Review posted January 26, 2015.
Fifth House, Canada, 2014. 40 pages.
I meant to read this book quickly, but opening it up makes me pause. This book includes fifteen poems by schoolchildren, and one by their teacher. All the poems are about Haiti -- and they celebrate its beauty.
Accompanying the poems are large portraits of the children themselves, looking back at the reader.
My favorite poem is by Judes-Raldes Raymond:
The pretty flowers of my country are to me
Like pink butterflies
That smile at the sun.
I especially like pink flowers! The pink ones!
The charming pink flowers in my garden
Of multicoloured flowers:
Yellow, green, pink, red.
They are all lovely
Attached to their roots.
The giant sun shines in the sky
To the delight of the red flowers
in my garden.
This is a joyful, colorful, and irrepressible picture of Haiti.