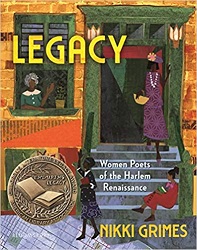 Legacy

Women Poets of the Harlem Renaissance


Review posted May 14, 2021.
Bloomsbury Children's Books, 2021. 134 pages.
Review written April 19, 2021, from a library book
Quick, name a female poet from the Harlem Renaissance! I couldn't do it before I read this book.
Here Nikki Grimes features poems from fifteen women poets of the Harlem Renaissance. After each poem she selects, she writes her own Golden Shovel poem – taking a significant line from the original poem and using those words at the ends of the lines in her tribute poem.
She says in the introduction:
In these pages, you will meet some of the gifted female poets – and remarkable women – of the Harlem Renaissance who created alongside and often nurtured the male poets we know. They didn't all produce poetry collections of their own, but each played an integral part in this historic era in America.
Then, alongside the challenging, inspirational, and beautiful poetry is placed art from nineteen black women artists. In the back, there are biographies of all the poets and all the artists.
The poems themselves are inspirational. As an example, the poem "Four Walls," by Blanche Taylor Dickinson, about overcoming obstacles, is paired with Nikki Grimes golden shovel poem "What Girls Can Do," also about breaking out of boxes.
This is especially an anthology to hand to black girls to let them know there are no limits, but anyone can appreciate this message and the beauty of the words and images. And find out about some too-long-overlooked poets.