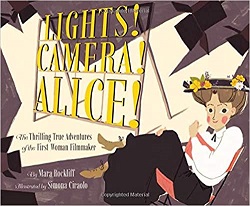 Lights! Camera! Alice!
The Thrilling True Adventures of the First Woman Filmmaker
Review posted May 30, 2020.
Chronicle Books, 2018. 56 pages.
Starred Review
Review written in 2018 from a library book.
2018 Sonderbooks Stand-out
:
#4 Children's Nonfiction Picture Books
Who knew? One of the first people to create movies was a woman! This is from the note at the back:
Alice Guy-Blaché (1875-1968) was the first woman in the world to make movies – and one of the very first moviemakers, period. Long before Hollywood turned from silent films to "talkies," Alice directed the first sound films ever made. She was also one of the first to film made-up stories instead of real events. (Some historians say she was the first, while others credit the Lumière brothers or Georges Méliès.) Between 1896 and 1920, Alice made over seven hundred movies, and her studio, Solax, produced hundreds more. She truly earned the title "Mother of the Movies."
This picture book biography dramatizes Alice's life without enormous amount of text and plenty of visuals. She grew up in France and got her start there, but came to America and made movies outside New York City. But the rise of Hollywood and the start of World War I meant her studio went out of business.
Each "episode" of her life has a "title card" like the old-fashioned title cards used in silent movies, and it turns out that each one is the title of a movie Alice made, with titles like "A Terrible Catastrophe," "The Great Discovery," "Starting Something," "Imagination," and "Her Great Adventure."
There's lots of back matter, and I took the time to look up one of Alice's short films on YouTube. I was quite taken with this amazing woman I'd never heard of before – who changed the world.