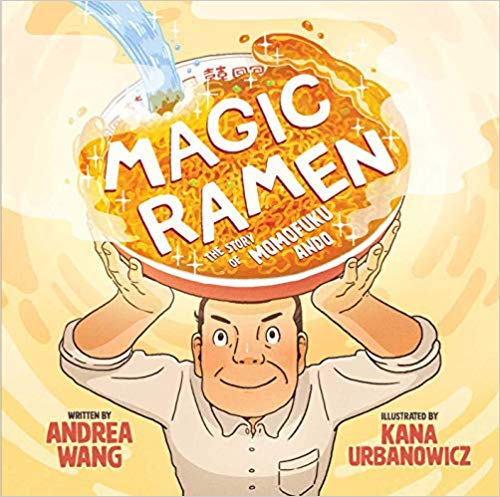 Magic Ramen
The Story of Momofuku Ando
Review posted August 19, 2019.
Abrams Books for Young Readers, 2019. 64 pages.
Starred Review
Okay, the existence of inexpensive ramen noodles that cook in hot water in a couple of minutes is something I've always taken for granted. Cup of soup! No big deal, right?
This picture book tells the story of an invention that is so widely used, people don't realize it had to be invented – instant ramen.
We learn that the motivation for the inventor was seeing people lined up for ramen soup in postwar Japan.
Ando went home, but he couldn't forget the hungry people. The world is peaceful only when everyone has enough to eat, he realized. Ando decided that food would be his life's work.
But it wasn't easy to come up with noodles that could cook quickly in hot water. This book does a great job of showing the trial and error process of inventing. Even when he makes noodles that work, then he needs to work on the flavor. And production. And publicity.
At the end, it says:
Soon, everyone was eating Ando's ramen. Poor people. Children. Busy workers. Even royalty!
My coworker and I agree that the author forgot to mention college students!
This is a well-presented story about something readers will not take for granted ever again. The note at the back tells about Ando's continued inventions, even at the age of 91.