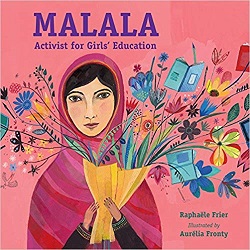 Malala
Activist for Girls' Education
Review posted August 7, 2018.
Charlesbridge, 2017. 45 pages.
Starred Review
Review written in 2017
This is a picture book biography of Malala. Her story is told simply, in a way that children can understand.
Malala was born in 1997 in Pakistan, the daughter of a teacher who had founded a school for girls. As the Taliban rose to power, Malala became an activist for girls' education, even though she was still a child.
When she was eleven, she spoke against the Taliban trying to take away her education, in a speech covered by newspapers and television. After the Taliban did close down schools for girls, Malala was offered a chance to write a blog for the BBC about girls and education.
When she was still thirteen:
Malala is elected speaker of the child assembly associated with the Khpal Kor Foundation, which promotes the rights of children. In this leadership role, she begins as a children's rights activist.
She wins the first-ever National Youth Peace Prize in Pakistan, and starts an educational foundation. But the Taliban does not like her work. Assassins come onto her school bus and shoot her three times. (This page is rendered symbolically with silhouetted figures in guns, but a bright light (like an explosion) coming off Malala. The faces of the girls are peaceful.)
Malala is flown to England, where she recovers. And then she begins a fresh wave of activism. Now she's working for girls all over the world.
On Malala's sixteenth birthday, July 12, 2013, hundreds of people from around the world hear her speak at the United Nations in New York City. Malala wears a shawl that belonged to Benazir Bhutto, a Pakistani prime minister who was assassinated.
The book includes quotations from that speech and tells us that the next year, at seventeen, Malala was the youngest person ever to receive the Nobel Peace Prize.
This book is packed with facts, but they are presented in a way children can understand. The illustrations are lovely, and tend toward symbolic depictions of ideas. There are 10 pages of back matter with photos and more information.