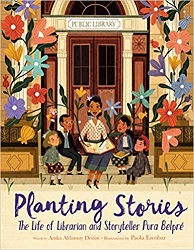 Planting Stories
The Life of Librarian and Storyteller Pura Belpré
Review posted March 19, 2019.
Harper, 2019. 36 pages.
Starred Review
Review written February 13, 2019, from a library book
Here's a picture book biography of Pura Belpré, who has a children's book award named after her for outstanding works of literature by Latinx authors and illustrators.
In 1921, Pura Belpré was the first Puerto Rican librarian in New York City. She was hired to find books and create programs at the Harlem branch that would appeal to the neighborhood's growing Spanish-speaking community.
Since Pura didn't find any stories from Puerto Rico on the library shelves, she told the stories herself. She ended up creating puppets to go with them and authoring several books based on those stories.
This book, with particularly beautiful illustrations, celebrates the difference a librarian made to an entire community, while telling more of the background of her life.
I was glad to discover the story of the person honored by the award. Yes, she was someone who got stories into the minds and hearts of Latinx children.