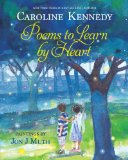 Poems to Learn by Heart
Review posted December 10, 2013.
Disney Hyperion Books, New York, 2013. 192 pages.
Starred Review
2013 Sonderbooks Stand-out
: #7 Children's Nonfiction
Caroline Kennedy has collected in this book a rich treasury of poems, all worth committing to memory, and also worth reciting aloud even if you haven't memorized them.
There's a nice variety here, including poems I've known since childhood and were recited by my fellow students, such as "Casey at the Bat," as well as much newer poems, less well-known poems, and even some poems by students.
She divides them into sections with similar themes, using a line from one of the poems to title each section. We've got "Here I Am and other poems about the self," "I Dreamed I Had to Pick a Mother Out and other poems about family," "I'm Expecting You! and other poems about friendship and love," "I Met a Little Elf-Man, Once and other poems about fairies, ogres, and witches," "Where Can a Man Buy a Cap for His Knee? and other nonsensical poems," "It Is the Duty of the Student and other poems about school," "We Dance Round in a Ring and Suppose and other poems about sports and games," "Four Score and Seven Years Ago and other poems about war," "The World Is So Full of a Number of Things and other poems about nature," and "Extra Credit" (extra difficult poems to memorize).
It took me a very long time to read this book, because I read it a little at a time, trying to read as many poems as possible aloud to myself. But each time I checked the book out, it was on hold when three weeks were up, and then it took weeks for my hold to come in again. This last time, I made extra effort to finish reading it before my time was up! I'm amazed that it's been out for months, but all copies are still on hold. I didn't realize there were so many lovers of poetry in our county, but that fact makes me happy.
One thing's for sure, the next time a child or a parent comes to the library looking for a poem to recite, I will give them this book – if we are lucky enough to actually find it on the shelf! This is a treasure trove of delightfully recitable poems.