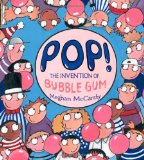 Pop!

The Invention of Bubble Gum
Review posted September 2, 2013.
A Paula Wiseman Book (Simon & Schuster), 2010. 40 pages.
This nonfiction picture book tells the story of the invention of bubble gum. Walter Diemer, the man who came up with the breakthrough, was actually an accountant in the Fleer candy factory. He started watching a pot for a chemist, and ended up testing out new combinations. He finally found the formula for bubble gum. Pink was the only color he happened to have on hand, so that was the color of the new invention.
This simple story is told with big bright illustrations. It's true, and it's about something near and dear to children's hearts, so this is an excellent choice to get kids interested in nonfiction. Notes at the back tell more about Walter Diemer and facts about gum.