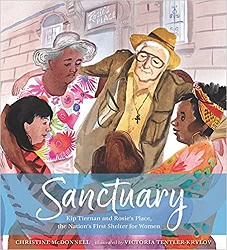 Sanctuary
Kip Tiernan and Rosie's Place, the Nation's First Shelter for Women
Review posted October 8, 2022.
Candlewick Press, 2022. 36 pages.
Review written August 5, 2022, from a library book.
Starred Review
Here's a picture book biography of a woman I'd never heard of before -- who truly deserves to be celebrated.
Kip Tiernan grew up during the Great Depression and watched her grandmother serve soup to the line of men who came to their door. Later, as an adult in 1968, she sold her business and gave the rest of her life to serving the poor.
First, she worked in shelters. Kip noticed that women would disguise themselves as men to get help in the shelter.
She later opened the nation's first women's shelter. Her work was beautiful because she respected people's dignity.
She wanted to open a sanctuary with flowers and music where women wouldn't be reminded they were poor, a shelter with no chores, no questions asked, just good meals and warm beds. She hoped the volunteers at her shelter would listen to the guests. When you listen to others, you show respect; you learn who they are and what they need.
This beautiful picture book celebrates a woman who gave her life to helping others.
The author teaches English to immigrant women today at the shelter that Kip Tiernan founded.