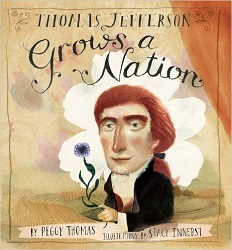 Thomas Jefferson Grows a Nation


Review posted August 11, 2016.
Calkins Creek (Highlights), Honesdale, Pennsylvania, 2015.
I expected this picture book to be about Thomas Jefferson and the Louisiana Purchase. Yes, that's included. But what I didn't expect was all the information about Thomas Jefferson as a farmer and as a scientist studying agriculture.
There's an amazing and amusing extended story right toward the beginning. Thomas Jefferson got into a sort of competition with a French naturalist, Count Buffon, who wrote a book claiming that America's very wildlife showed it to be an inferior continent.
The wildlife was inferior, he said. "Shrivelled." "Diminished." Sheep were "meagre, and their flesh less juicy." A jaguar was no bigger than a beagle, and dogs were "mute." The New World, he argued, had nothing as grand as an elephant, and the weather produced an infestation of lowly reptiles and insects.
Thomas Jefferson worked hard to set the record straight. He even had a moose carcass shipped to him in France!
The book also covers Jefferson's many experiments with different plants for farming, and his study of invasive pests. He practiced crop rotation and was interested in the science of farming. He even won a gold medal from the French Society of Agriculture for a device that improved plows.
When he was President and responsible for the Louisiana Purchase, it was only natural that he was also behind Lewis and Clark's expedition, cataloguing the plants and animals of the new territory.
This is a nontraditional look at Thomas Jefferson, and made all the more interesting with the illustrations. Although it's a picture book, there is plenty of text on each page, more suitable for upper elementary school readers. A fascinating presentation of the life of someone I thought I already knew about.