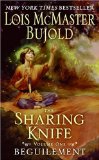 The Sharing Knife
Volume One: Beguilement
Review posted March 16, 2010.
eos (HarperCollins), 2006. 372 pages.
Starred Review
A big thank you to my siblings who gave me this book last year for Christmas. When I was on my way to see them this year for Christmas, I thought it was high time I read it, so I brought it along. It was another that I was very sorry I didn't have the second volume with me, but remedied that as soon as I got home.
Fawn Bluefield has run away from home after she learns she's pregnant and the father spurns her. She'll find work in the city, and won't have to face her brothers on the farm with this.
Along the way, she sees a group of Lakewalkers, including a man with only one hand. There are fearsome tales among the farmers about Lakewalkers, so Fawn hides until they go, not realizing that her spark of life is bright and clear to the one-handed man.
But the Lakewalkers are on the trail of a Malice, a fearsome creature that can enslave animals and humans and destroy their souls. Some of the Malice's servants are on the road to town, and they find Fawn. The tall Lakewalker saves Fawn, twice, but then she has a chance to save him. His magic knife, bespelled to kill a Malice, has a strange reaction to Fawn's unborn child.
Their frightening adventures plus the magic knife, create a bond between this unlikely pair. But few things are more forbidden, on both sides, than a romance between a farmer girl and a Lakewalker.
Lois McMaster Bujold creates a fascinating world where the Lakewalkers use powerful and mysterious magic, at great cost to themselves, to protect the farmers. Yet both sides neither trust nor understand one another. Can Fawn bridge that gap?
This is fantasy for adults, with plenty of talk about sex, as Fawn learns from the more experienced Lakewalker. There is more detailed world-building than you usually find in Young Adult fantasy, but I found myself so interested in the pair, I wasn't as distracted by it as I often am. I definitely plan to read more of the series to find out what happens next.