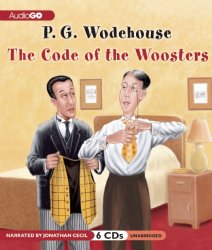 The Code of the Woosters
Review posted 01/25/2015.
Recorded Books, 1989. First published in 1938. 8 hours on 7 compact discs.
Starred Review
I'm trying to listen to all the P. G. Wodehouse Jeeves and Wooster books, since there is nothing better for putting me in a good mood while riding in the car.
The Code of the Woosters is one that was used for the marvelous BBC series Jeeves and Wooster, starring Hugh Laurie and Stephen Fry, so I was very familiar with the plot – but that didn't diminish my enjoyment in the slightest. It perhaps helped me follow the convoluted plot all the better. It did have a slightly different resolution than is dramatized in the series, but mostly the series follows the book closely.
If you've seen the series, all I have to say is that this is the one with the imbroglio involving the Cow Creamer.
The book itself uses the word "imbroglio" to describe the situation we find here, and the description is apt. You couldn't hope to come up with a more convoluted set of people hoping to marry other people and threatening to marry others and needing approval and blackmailing innocents into nefarious deeds and being in danger of disaster of all different kinds. And it's all done with a proper British accent and Bertie's jovial way of talking.
Entirely too much fun.