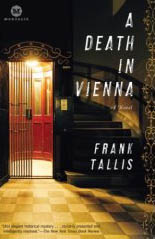 Here's a murder mystery with a fascinating historical setting. The hero of the book is Max Liebermann, a doctor proficient in the new science of psychoanalysis at the turn of the twentieth century, a friend and colleague of Sigmund Freud.
Liebermann's friend Oskar Rheinhardt, a police detective, is presented with an especially perplexing case. A woman is found dead in a locked room, clearly dead by a bullet wound, yet there is no bullet found in her body. The woman was a practitioner of the occult and a regular leader of seances. Could she have offended the spirits?
Max Liebermann reads people well, understanding Freudian slips at a time before the general populace knew about them. His perceptive analysis of people makes him an ideal assistant to his friend the detective.
This book was a perfect break for me in between volumes of the much more emotional Twilight series. A Death in Vienna appeals on a more cerebral level, with a challenging puzzle and an intriguing historical background, when the practice of treating psychological ailments was far different than it is today.
A big thank you to the library customer who told me about this book!