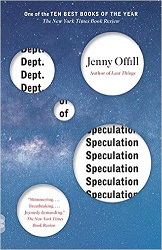 Dept. of Speculation
Review posted November 17, 2016.
Vintage Books, New York, 2014. 179 pages.
Starred Review
I began reading this book today while waiting for my son's dental appointment. I finished tonight before doing anything else. Couldn't look away.
Dept. of Speculation is the story of a marriage. But it's also the story of how it feels when your husband has an affair. And that's why I couldn't look away.
I didn't cry when I read this book, so I can't say it brought it all back. I was oddly detached, looking at it in some ways like the wife in the story is looking back on their history together, numb.
The story isn't coherent and ordered. It's from the perspective of the wife, looking back on their marriage. I like the way it changes from first person when the marriage is good to third person while the affair is happening, talking about herself as "the wife" in this scenario.
Her marriage and her husband's affair weren't very similar to what happened to me at all -- and yet -- the emotions of the time, that detached, crazy feeling, the sense of incredulity -- so much here that I can't put into words -- It was all so, so recognizable to me.
Just yesterday, my cousin expressed surprise that after her ex was nice to her, she was feeling down -- and I remembered that feeling so well. While reading this book, I found myself actually jealous of the protagonist, that she ultimately kept her marriage -- even though staying with the person who hurt you so incredibly deeply has its own sort of horror.
This isn't a book about rational thought. It is a book about feelings.
I'm not sure it was therapeutic to read this book and remember what that horrible time felt like. But since I didn't cry, I think that shows I've gained some distance, thank God. I think something was gained to see that I could look at an affair from a new perspective. And be thankful that time is past.
I do have to say that my heart bleeds for this wife in sad recognition. The way she finds something she did wrong that she thinks set him off. Her simple bewilderment that the stars in the sky have changed position. Sigh.
This part:
People say, You must have known. How could you not know? To which she says, Nothing has ever surprised me more in my life.
You must have known, people say.
The wife did have theories about why he was acting gloomy. He was drinking too much, for example. But no, that turned out to be completely backwards; all the whiskey drinking was the result, not the cause, of the problem. Correlation IS NOT causation. She remembered that the almost astronaut always got very agitated about this mistake that nonscientists made.
Other theories she'd had about the husband's gloominess:
He no longer has a piano.
He no longer has a garden.
He no longer is young.
She found a community garden and a good therapist for him, then went back to talking about her own feelings and fears while he patiently listened.
Was she a good wife?
Well, no.
Evolution designed us to cry out if we are being abandoned. To make as much noise as possible so the tribe will come back for us.
I find myself hoping that anyone who's thinking about having an affair will read this book and realize that the utter devastation it brings to multiple lives is not worth it. But it's not a message book; it's a story.
Spoiler alert: The book ends happily, and I'm glad for that. It's an exploration of feeling, an exploration of the fragile thing that marriage is, and the bewildering process of holding on when life falls apart.