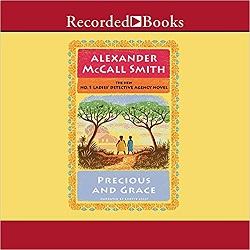 Precious and Grace

Review posted January 14, 2018.
Recorded Books, 2015. 9.75 hours on 8 discs.
Here's another book about the No. 1 Ladies' Detective Agency, with co-directors Precious Ramotswe and Grace Makutsi. The main puzzle of the book involves a Canadian lady who wants to find the place where she grew up in Gabarone and the lady who cared for her. But Mma Ramotswe senses there's more to the case than meets the eye.
Other plot threads involve a stray dog befriended by Fanwell and a business scheme which Mr. Polopetsi falls for. And guess who's up for Woman of the Year? It's Grace Makutsi's nemesis, Violet Sepotho.
It's interesting that this one doesn't have a surprisingly amusing title, but boils the work down to a story of friendship between two interesting ladies, Precious and Grace. They have their difficult moments, but ultimately they help people solve their problems. The book is filled with the usual gentle philosophy.
I'm now enjoying listening to these in audiobook format, getting more of the flavor of the book, as well as correct pronunciation, with the skilled narration and lovely accent of Lisette Lecat.
There's nothing really new in this installment. But if you've come this far, you'll enjoy another installment of philosophy and friendship with Precious and Grace.