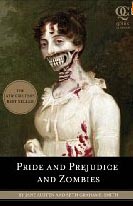 Pride and Prejudice and Zombies
Reviewed September 29, 2009.
Quirk Books, Philadelphia, 2009. 319 pages.
This book is awful. Truly terrible. But I have to admit that I find it frightfully hilarious.
Seth Grahame-Smith took the text of Pride and Prejudice and simply adjusted it to reflect an England in the grip of a dreadful plague of zombies. Everyone's prim and proper about it, but Elizabeth and her sisters are valiant zombie fighters who have trained in China in the "deadly arts."
This book should not go on lists titled "If you like Jane Austen..." It would be better for lists for those who don't like Jane Austen. I found myself laughing out loud and reading bits to my 15-year-old son, who is not interested in the original book, but found this all perfectly reasonable zombie mayhem.
In many places the story is much cruder, and definitely far more violent. I think they went too far when they had Elizabeth eat the beating heart of a ninja she'd conquered. I couldn't stomach more than a few chapters a night. But I'm afraid I found I couldn't stop. Knowing Pride and Prejudice as well as I do, I knew exactly what they had changed, and it was hilarious.
For example, at the party where we first meet Mr. Bingley and Mr. Darcy, just as in the original book, Elizabeth overhears Darcy calling her "tolerable" and saying "I am in no humour at present to give consequence to young ladies who are slighted by other men." But in this book, Elizabeth is insulted, and her warrior code demands that she avenge her honour. However, just as she is reaching for the dagger concealed at her ankle, a herd of "unmentionables" breaks the windows of the room and attacks the party.
As guests fled in every direction, Mr. Bennet's voice cut through the commotion, "Girls! Pentagram of Death!"
Elizabeth immediately joined her four sisters, Jane, Mary, Catherine, and Lydia in the center of the dance floor. Each girl produced a dagger from her ankle and stood at the tip of an imaginary five-pointed star. From the center of the room, they began stepping outward in unison -- each thrusting a razor-sharp dagger with one hand, the other hand modestly tucked into the small of her back.
From a corner of the room, Mr. Darcy watched Elizabeth and her sisters work their way outward, beheading zombie after zombie as they went. He knew of only one other woman in all of Great Britain who wielded a dagger with such skill, such grace, and deadly accuracy.
By the time the girls reached the walls of the assembly hall, the last of the unmentionables lay still.
Apart from the attack, the evening altogether passed pleasantly for the whole family....
Later on, when Elizabeth goes to visit Jane, taken ill at Netherfield, it is scandalous that she walk alone through the fields because the ground is soft from the recent rain, so all the more zombies are digging themselves out of graves. Elizabeth does encounter some, and dismembers them with skill. In this version, instead of simply commenting on the state of Elizabeth's hem, Bingley's sister notes,
Yes, and her petticoat; I hope you saw her petticoat, six inches deep in mud, I am absolutely certain; and pieces of undead flesh upon her sleeve, no doubt from her attackers.
And at Lady Catherine's, instead of being shocked that Elizabeth and her sisters did not have a governess, she is shocked that they didn't have their own ninjas.
Of course, probably the best part is when Elizabeth refuses Mr. Darcy's proposal and kicks him across the room with a force that shatters the mantelpiece. You don't mess with Elizabeth Bennett!
It's all very very silly and all carried off as if this is completely natural. Some things even make a little more sense. For example, Charlotte marries Mr. Collins because she was bitten by a zombie and stricken with the plague. She says,
All I ask is that my final months be happy ones, and that I be permitted a husband who will see to my proper Christian beheading and burial.
Surely such a fate would make it worthwhile to marry even Mr. Collins.
I also find Wickham's eventual fate much more appropriate than the original.
One of the funnier parts of the book is the set of discussion questions at the back, still taking the book very seriously. Here is the final question:
Some scholars believe that the zombies were a last-minute addition to the novel, requested by the publisher in a shameless attempt to boost sales. Others argue that the hordes of living dead are integral to Jane Austen's plot and social commentary. What do you think? Can you imagine what this novel might be like without the violent zombie mayhem?
My only fear is that memories of this book might intrude the next time I reread that great classic, Pride and Prejudice.