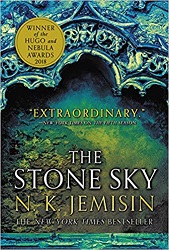 The Stone Sky
The Broken Earth, Book Three
Review posted June 15, 2019. Orbit Books, 2017. 416 pages.
Starred Review
Winner of the 2018 Hugo Award
Review written May 18, 2019, from a library book.
The Stone Sky finishes off The Broken Earth trilogy, the first trilogy ever to have all three books win Hugo Awards, and the first time an author has won three consecutive Hugo Awards. You should definitely read the books of this trilogy in order, because it would be very confusing without the background laid in the first two books.
The strength of this trilogy is in the world-building, though perhaps I should say in the world-breaking. The planet has literally been broken apart and humanity is dying and all life is struggling in this latest Fifth Season, with the sky full of ash and the earth unstable. There are two people who can do something about that – Essun and her daughter Nassun.
But Essun and Nassun are far apart from each other. Both have been growing more powerful as the trilogy progressed. Nassun has been taken under the wing of Schaffa, the Guardian Essun once thought she'd killed. Essun has been wanting to get to her daughter all this time, but other matters of survival got in the way. By now we wonder what will happen when they come together.
Besides orogeny – feeling and manipulating the forces of earth – the two are learning to manipulate the silvery magic in all living things – including the earth itself – and to harness the power of the obelisks, made by ancient people centuries in the past. But using that power comes with great risk.
The reader also learns more about the Stone Eaters. They were human once, long ago, about the same time that the obelisks were made. In this volume, we hear more of their stories.
I can't say that I thoroughly enjoyed reading these books. Lots of death and destruction in the middle, and this final book was awfully cerebral – I felt like I sort of understood the mechanisms of magic and orogeny and the obelisks, but not completely.
All the same, this book is unlike anything I've read in a long time, and I am amazed at the author's mastery of world-building and unusual narrative structure. It works, and all tells a fascinating story about family, love, and the fate of the world.