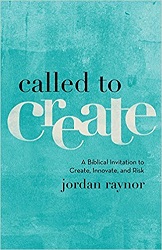 Called to Create
A Biblical Invitation to Create, Innovate, and Risk
Review posted August 29, 2018.
Baker Books, 2017. 234 pages.
I ordered this book after seeing an ad on Facebook, which said it looked at the life of C. S. Lewis and offered a Christian perspective on creating. Being a fan of C. S. Lewis and a writer at heart, I put a copy of the book in my Amazon shopping cart and bought it on my next order.
I was a little disappointed. Although the book is tangentially about creative arts like writing, the true subject of the book is entrepreneurship from a Christian perspective. Mind you, I do like thinking about entrepreneurship from a Christian perspective – and many of the insights about how our work should be our calling do apply. It's just that I personally am not at all called to be an entrepreneur. (My calling is a librarian – and like Paul boasts in I Corinthians 9, I take pride in offering my services free of charge.)
The book is peppered with stories, though some of them I'd heard before as sermon illustrations. I certainly didn't learn anything new about C. S. Lewis, either. But there were many stories of entrepreneurs I'd known nothing about.
And I do love the foundational insight behind this book: That our work can be a calling from God even if it is not full-time ministry. Like the author, I grew up in evangelical churches and absorbed the message (probably unintentional) that if you were really a follower of Jesus, you'd go into full-time ministry.
Given that I'm not in the intended audience, this book does talk about important topics for Christian entrepreneurs: The purpose behind creating, deciding what to create, and how to run a business with Christian values throughout. He also looks at questions like the balance between hustling, trusting, and rest, and the challenges of dealing with both failure and large profits.
Following Jesus should affect our entire lives. This book takes a look at how it should affect your business if you are among those called to create.