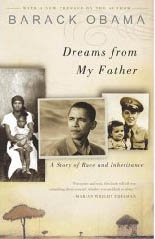 Dreams From My Father

A Story of Race and Inheritance


Review posted October 12, 2008.
Crown Publishers, New York, 2004. First published in 1995. 442 pages.
My Auntie Sue wanted me to read this book so much, she sent me a copy. Thank you, Auntie Sue!
And I admit, it was down low in my pile of books to read for quite awhile. Once I did finally open it up and look inside, I was quickly hooked. Whatever else you might say about Barack Obama, he does have a way with words.
This book was written before Senator Obama started his political career, so it's not a story about politics. Instead, it's a story of growing up as someone who felt like an outsider. He was naturally forced to think deeply about questions of race and questions of belonging.
Barack Obama was brought up by his white mother and her parents, in Hawaii. His father was an international student from Kenya. The father went to study at Harvard, but didn't have the money to bring his family with him, and ended up going back to Kenya on his own.
Later, Barack's mother married an Indonesian, so he grew up in Hawaii and Indonesia, and went to college in California.
This book covers those growing up years, his years working as a community organizer in Chicago, and then a trip to Kenya where he met family members on his father's side and learned about the father he only met when he was ten years old.
As a child growing up in a white family with brothers and sisters from Africa, as an American who spent several formative years living in Indonesia, Barack Obama is in a unique position to reflect on race in America, on community and belonging, as well as on attitudes about poverty that have similarities worldwide.
This is fascinating and thought-provoking reading. Now I will try to get my hands on his later book, The Audacity of Hope.