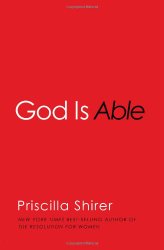 God Is Able



Review posted April 8, 2014.
B&H Publishing Group, Nashville, Tennessee, 2013. 157 pages.
A big thank you to my friend Ruth for giving me this book for Christmas!
God Is Able looks closely at Ephesians 3:20-21:
Now to Him who is able to do exceeding abundantly beyond all that we ask or think, according to the power that works within us, to Him be the glory in the church and in Christ Jesus to all generations forever and ever. Amen.
Each chapter looks at one phrase from these verses, attempting to get all their gloriousness to sink into our hearts.
She writes in a colloquial style. She gives lots of examples and illustrations. The real power of this book, though, is in its ability to get you thinking about these powerful verses. Reading a chapter about each phrase only begins to do them justice.