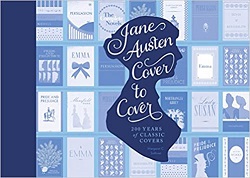 Jane Austen Cover to Cover
200 Years of Classic Covers
Review posted September 9, 2022.
Quirk Books, 2014. 224 pages.
Review written July 25, 2022, from my own copy, given to me as a gift.
Starred Review
First, a great big huge thank you to my coworker Pam Coughlan, who gave this book to me as a parting gift when I got transferred so I was no longer her supervisor. What a delightful treat it is!
The book tells the history of Jane Austen's publications -- with pictures of covers along the way.
They started out quite plain, but it's fun to watch fashions in cover design change over the years. Some of the covers are almost funny when a Jane-lover realizes how little they have to do with what's inside the book.
The chapters cover distinct time periods: 1811-1818 -- while Jane Austen was alive, and shortly after; 1832-1920, 1920-1989, and 1990-2013 (Yes, there has been a revival). After that, there's a chapter with book covers that use stills from movie adaptations, and then a chapter of foreign language editions.
It's peppered with Jane Austen quotations, especially ones appropriate to scenes shown on the covers, and plenty of information about the different editions featured.
Above all, it's super fun for any Austenite to browse through. I'm keeping this one in my coffee table to pull out for browsing. (It's a glass-topped coffee table with a drawer.) So much fun!