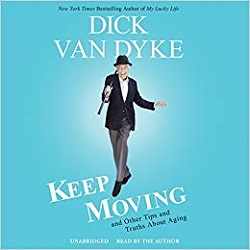 Keep Moving

and Other Tips and Truths About Aging


Review posted December 3, 2018.
Blackstone Audio, 2015. 5.5 hours on 5 compact discs.
Review written in 2016 from a library audiobook
Listening to this audiobook will make you smile. Written shortly before he reached his 90th birthday, the main advice Dick Van Dyke gives his listeners is: Keep moving!
The style is a little bit rambling, but he has a right to ramble! He gives us anecdotes from his long life and observations about the journey. He'll make you laugh and he'll help you look at your own elder years with anticipation.
I enjoyed the audiobook in particular, because it was as if Dick Van Dyke was talking to me. You can hear the smile in his voice, and when I listened coming home from work, it never failed to make the evening cheerier. Dick Van Dyke dances when he hears music in the grocery store!
He asks the listener: Are you singing and dancing? If not, why not?