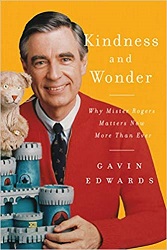 Kindness and Wonder
Why Mister Rogers Matters Now More Than Ever
Review posted June 4, 2020.
Dey St. (William Morrow), 2019. 248 pages.
Review written December 29, 2019, from a library book
Kindness and Wonder is a biography of Mr. Rogers, followed by ten lessons from his life, with anecdotes. I like the biography. I had tried to get through the much more detailed biography, The Good Neighbor in audio form, and hadn't ever finished it. This one gives you the basic facts and the basic story of his life without getting bogged down.
The ten lessons are:
Be deep and simple.
Be kind to strangers.
Make a joyful noise.
Tell the truth.
Connect with other people every way you can.
Love your neighbors.
Find the light in the darkness.
Always see the very best in other people.
Accept the changing seasons.
Share what you've learned. (All your life.)
Some of the stories presented alongside these lessons weren't what I expected. For example, the "Love your neighbors." chapter told how the lives of Andy Warhol and George Romero paralleled the life of Mr. Rogers. I'm not sure I cared about them!
But mostly, this book tells about a man's life who saw his ministry as using television to reach children, and who took children's developmental needs very seriously.
As a children's librarian, of all people, I need to learn everything I can from Mr. Rogers. I like the way this book points out the lessons from his example.