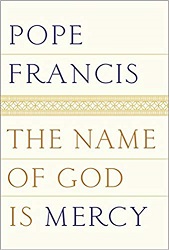 The Name of God Is Mercy
A Conversation with Andrea Tornielli
Review posted November 25, 2018.
Random House, 2016. 151 pages.
Starred Review
Review written in 2016
This short book is a meditation on the mercy of God. As such, it will uplift you and inspire you and bless you.
Perhaps it will make you more merciful, as you meditate on God's mercy.
Perhaps it will enable you to realize that God is not angry with you. As I learned here that St. Augustine once said, "It is easier for God to hold back anger than mercy."
God forgives everyone, he offers new possibilities to everyone, he showers his mercy on everyone who asks for it. We are the ones who do not know how to forgive.
If you would find it helpful to think about God's mercy and forgiveness, I recommend this book.