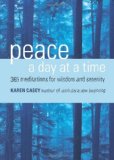 Peace
A Day at a Time
365 Meditations for Wisdom and Serenity
Review posted February 26, 2014.
Conari Press, 2011.
Starred Review
I've been a fan of Karen Casey's writings for several years now. After I went through her daily meditations book, Each Day a New Beginning for a full year and a half, I wanted to start another one.
Peace: A Day at a Time is a collection of meditations from Karen Casey's other books, so some were, indeed, a repeat from Each Day a New Beginning. But that's all good! Her writings indeed help you start each day at peace.
Here's an example of a day's meditation from early in the year, titled "Unique Journey":
The more comfortable we are with the knowledge that each of us has a unique journey to make, a specific purpose to fulfill, the easier it is to let other people live their own lives. When family members are in trouble with alcohol or other drugs, it's terribly difficult to let them have their own journey. Because we love them, we feel compelled to help them get clean and sober. In reality, all we can do is pray for their safety and well-being. Their recovery is up to them and their Higher Power.
For some of us it's a leap of faith to believe there really is a Divine plan of which we are all a part. And perhaps it's not even necessary to believe. But we'll find the hours of every day gentler if we accept that a Higher Power is watching over all of us.
Being able to let others live and learn their own lessons is one of our lessons. The more we master it, the more peaceful we'll be.
This book is highly recommended for daily thoughts on letting go and living the life you were made to live.