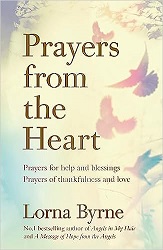 Prayers from the Heart
Prayers for help and blessings
Prayers of thankfulness and love
Review posted August 25, 2023.
Coronet, 2019. First published in Great Britain in 2018. 278 pages.
Review written August 13, 2023, from my own copy, purchased via amazon.com.
Starred Review
Here's another book by the wonderful Lorna Byrne, who writes her story in Angels in My Hair, telling how all her life she's been able to see angels.
In this book, she gives us guidance for praying and fills the book with example prayers for specific situations. The examples are all simple and heartfelt, and reinforce that you really can pray about anything.
I especially enjoyed the first chapter, where she talks about how angels help us and the benefits of prayer:
We all need prayer. Now matter what you say -- whether you believe in it or not -- there will always be a time in your life when you need prayer. And we do all need it, though sometimes we are so cast down we feel unable to pray. That is why we should all pray for each other, because sometimes we simply cannot pray for ourselves. We may be in too much pain, physically and emotionally, and we cannot say the prayers we need to help us in our lives at that particular time.
It was when I had just read the first chapter and was thinking about how she teaches there are angels all around us that I had a lovely experience that convinced me to believe it.
After all, I believe God loves me. Why not believe that this loving God has servants all around, protecting and helping me and the world around me? This book uplifts me, encourages me, and reminds me to pray.