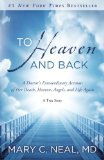 To Heaven and Back

A Doctor's Extraordinary Account of Her Death, Heaven, Angels, and Life Again


Review posted June 26, 2013.
Waterbrook Press, 2012. 222 pages.
Here's another Near Death Experience book. I grant you that if you don't believe in heaven, you can probably find ways to explain these away. But for those of us who believe in heaven, stories like these are magnificently encouraging. At the very least, it's hard to deny that Dr. Neal should have died in the accident she describes. And once you admit that her very survival was miraculous, it's hard to ignore her description of talking with angels and her sense of mission in her life afterward.
This book isn't as focused and polished as some of the similar books I've been reading. But an interesting aspect is that she felt she was given a mission to help her family through some hard times. And then her son died. So as if a near death experience weren't enough, this is also a book about a family dealing with the grief of losing a son, and doing so with grace.
As with every other similar book I've read, one of her main descriptions of heaven was a place of love:
My arrival was joyously celebrated and a feeling of absolute love was palpable as these spiritual beings and I hugged, danced, and greeted each other. The intensity, depth, and purity of these feelings and sensations were far greater than I could ever describe with words and far greater than anything I have experienced on earth.
This book tells a dramatic story. It also gives us a glimpse of the hand of God in someone's life. And I find that encouraging.