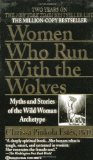 Women Who Run With the Wolves
Myths and Stories of the Wild Woman Archetype
Reviewed February 7, 2011
Ballantine Books, New York, 1997. First published in 1992. 582 pages.
Starred Review
Sonderbooks Stand-out 2010
: #2 Other Nonfiction
This wonderful book is full of riches. I read it very slowly, and will definitely want to read it many more times to better grasp the wisdom it contains.
For some time, I've loved books by Allan B. Chinen, such as Once Upon a Midlife, that take fairy tales from around the world and reveal the psychology behind them and what it means about the passages in a person's life. Women Who Run With the Wolves is similar, taking fairy tales and stories from all over the world that shine light on women's lives. Only Clarissa Pinkola Estes is much more poetical and symbolic in applying the fairy tales, so that her own skills as a storyteller shine out even in the explanations.
Here are some thoughts the author shares in the Introduction:
Healthy wolves and healthy women share certain psychic characteristics: keen sensing, playful spirit, and a heightened capacity for devotion. Wolves and women are reolational by nature, inquiring, possessed of great endurance and strength. They are deeply intuitive, intensely concerned with their young, their mates, and their pack. They are experienced in adapting to constantly changing circumstances; they are fiercely stalwart and very brave.
Yet both have been hounded, harassed, and falsely imputed to be devouring and devious, overly aggressive, of less value than those who are their detractors. They have been the targets of those who would clean up the wilds as well as the wildish environs of the psyche, extincting the instinctual, and leaving no trace of it behind. The predation of wolves and women by those who misunderstand them is strikingly similar....
Like a trail through a forest which becomes more and more faint and finally seems to diminish to a nothing, traditional psychological theory too soon runs out for the creative, the gifted, the deep woman. Traditional psychology is often spare or entirely silent about deeper issues important to women: the archetypal, the intuitive, the sexual and cyclical, the ages of women, a woman's way, a woman's knowing, her creative fire. This is what has driven my work on the Wild Woman archetype for over two decades.
A woman's issues of soul cannot be treated by carving her into a more acceptable form as defined by an unconscious culture, nor can she be bent into a more intellectually acceptable shape by those who claim to be the sole bearers of consciousness. No, that is what has already caused millions of women who began as strong and natural powers to become outsiders in their own cultures. Instead, the goal must be the retrieval and succor of women's beauteous and natural psychic forms.
Fairy tales, myths, and stories provide understandings which sharpen our sight so that we can pick out and pick up the path left by the wildish nature. The instruction found in story reassures us that the path has not run out, but still leads women deeper, and more deeply still, into their own knowing. The tracks we all are following are those of the wild and innate instinctual Self....
Stories are medicine. I have been taken with stories since I heard my first. They have such power; they do not require that we do, be, act anything -- we need only listen. The remedies for repair or reclamation of any lost psychic drive are contained in stories. Stories engender the excitement, sadness, questions, longings, and understandings that spontaneously bring the archetype, in this case Wild Woman, back to the surface.
Stories are embedded with instructions which guide us about the complexities of life. Stories enable us to understand the need for and the ways to raise a submerged archetype. The stories on the following pages are the ones, out of hundreds that I've worked with and pored over for decades, and that I believe most clearly express the bounty of the Wild Woman archetype....
This is a book of women's stories, held out as markers along the path. They are for you to read and contemplate in order to assist you toward your own natural-won freedom, your caring for self, animals, earth, children, sisters, lovers, and men. I'll tell you right now, the doors to the world of the wild Self are few but precious. If you have a deep scar, that is a door, if you have an old, old story, that is a door. If you love the sky and the water so much you almost cannot bear it, that is a door. If you yearn for a deeper life, a full life, a sane life, that is a door.
The material in this book was chosen to embolden you. The work is offered as a fortification for those on their way, including those who toil in difficult inner landscapes, as well as those who toil in and for the world. We must strive to allow our souls to grow in their natural ways and to their natural depths.
This book was a perfect choice for me as I was going through divorce and trying to figure out who I am as a single woman, looking at my life and wanting to create something beautiful. This book was exactly the sort of encouragement and wisdom I needed.
As she says, these stories are to read and contemplate. I highly recommend them, and I am sure I am going to come back to this book many times.
I'll close with some bits of wisdom from its pages:
Though fairy tales end after ten pages, our lives do not. We are multi-volume sets. In our lives, even though one episode amounts to a crash and burn, there is always another episode awaiting us and then another. There are always more opportunities to get it right, to fashion our lives in the ways we deserve to have them. Don't waste your time hating a failure. Failure is a greater teacher than success. Listen, learn, go on. That is what we are doing with this tale. We are listening to its ancient message. We are learning about deteriorative patterns so we can go on with the strength of one who can sense the traps and cages and baits before we are upon them or caught in them.
A woman must be careful not to allow over-responsibility (or over-respectability) to steal her necessary creative rests, riffs, and raptures. She simply must put her foot down and say no to half of what she believes she "should" be doing. Art is not meant to be created in stolen moments only.
There is a time in our lives, usually in mid-life, when a woman has to make a decision — possibly the most important decision of her future life — and that is, whether to be bitter or not. Women often come to this in their late thirties or early forties. They are at the point where they are full up to their ears with everything and they've "had it" and "the last straw has broken the camel's back" and they're "pissed off and pooped out." Their dreams of their twenties may be lying in a crumple. There may be broken hearts, broken marriages, broken promises.
A body who has lived a long time accumulates debris. It cannot be avoided. But if a woman will return to the instinctual nature instead of sinking into bitterness, she will be revivified, reborn. Wolf pups are born each year. Usually they are these little mewling, sleepy-eyed, dark-furred creatures covered in dirt and straw, but they are immediately awake, playful, and loving, wanting to be close and comforted. They want to play, want to grow. The woman who returns to the instinctual and creative nature will come back to life. She will want to play. She will still want to grow, both wide and deep. But first, there has to be a cleansing.