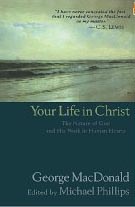 Your Life in Christ
The Nature of God and His Work In Human Hearts


Review posted March 22, 2009.
Bethany House, 2005. 261 pages.
I love George MacDonald's writings. His deep and abiding love for the Father shine through, and his encouragement is inspiring.
Here's another collection of his writings compiled by Michael Phillips. This book contains selections only from his nonfiction, with commentary on each passage from Michael Phillips.
A nice way to get a feel for this book is to read some of the quotations that blessed me.