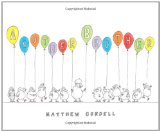 Another Brother

Review posted July 27, 2012.
Feiwel and Friends, New York, 2012. 36 pages.
At last! A picture book that features a family with 13 children! Okay, they're sheep, but still, it's a gap that needed filling.
If a human child thinks he has it bad when he loses his parents' focus, he can imagine what it's like for Davy. "For four glorious years, Davy had Mom and Dad all to himself." But then Davy gets a brother, then another and another, until finally he has twelve little brothers.
Now, I do have a big peeve with this book. The brothers are specifically mentioned as coming one at a time -- but they are all pictured as the same age, and going through the same stages at the same time. Um, that's NOT how big families work.
But that's not really the point. The point is Davy's got twelve little brothers, all mimicking him and getting in his way and being annoying.
"It's only a phase, Davy," Mom said. "Because you're the oldest, your brothers look up to you."
"When they get old enough," said Dad, "your brothers will have their own interests. Then they won't copy you."
The book isn't meant to be realistic. It takes a sibling problem and makes it hilarious by taking it to the extreme and illustrating it with completely silly pictures.
So if a child thinks he's got it bad with an annoying little brother or sister, he can just imagine what it's like for Davy. I guarantee that if you do find a kid who has twelve younger brothers like Davy, he will be far too old for this book, so Davy's problems will definitely look extreme. Nothing like a bit of perspective!