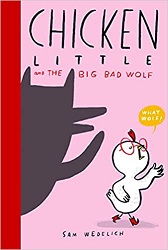 Chicken Little and the Big Bad Wolf
Review posted April 28, 2021.
Scholastic Press, Spring 2021. 40 pages.
Review written March 8, 2021, from an advance reader copy sent by the publisher
Starred Review
In this book, Chicken Little, who is well known for leaping to conclusions, is knocked down by a wolf jogging by. It must be the Big, Bad Wolf! He's certainly big anyway.
And when Chicken Little tells another chicken about it, the whole flock is all aflutter. What should their reaction be, fight or flight? And will either one work for a bunch of chickens?
While the flock is laying plans, Chicken Little decides to bravely investigate. She asks the wolf, "Are you bad?"
And the wolf answers:
Me? I don't think so. I suppose we all have light and dark in us. . . but I try to make good choices if that's what you mean.
It turns out that the wolf is a vegetarian, which made it hard for him to fit in with other wolves. After Chicken Little convinces the flock, they think of a way to make him feel at home.
It all adds up to a delightfully silly story about not jumping to conclusions and being willing to make others feel welcome.