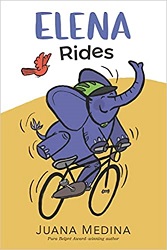 Elena Rides
Review posted April 6, 2023.
Candlewick Press, 2023. 28 pages.
Review written March 28, 2023, from a library book.
Starred Review
Oh, this beginning reader is wonderful! Since kids who are learning to read also tend to be kids who have recently learned to ride a bike, the subject matter is perfectly appropriate.
This is a book about Elena, a young elephant, who is learning to ride a bike.
And if kids think it's hard to learn to ride a bike, well, it's easier for them to balance than it is for an elephant!
The pictures are delightful. There's so much joy on Elena's face each time she gets going. And somehow, Juana Medina makes you believe an elephant actually could balance on a bike.
But the choice of words is also delightful. Sitting here in my home, I simply had to read the book aloud. This would be perfect in a story time, as each fall has an expressive sound with plenty of drama. Here's how the book begins:
Elena wants to ride.
Elena buckles her helmet.

She readies,
she steadies . . .

she pushes,
she pedals!

She wobbles
and bobbles . . .

KA-BANG!
After the first fall, Elena has a look of worried determination. After the second, she does some crying. When a third fall happens after some exhilarating riding, she needs the encouragement of her bird friend to try again. But the book ends with the triumph of the title repeated:
Elena rides!
This seems like a practically perfect easy reader to me. I hope it gets some Geisel love!