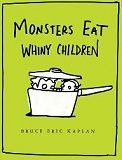 Monsters Eat Whiny Children
Review posted April 25, 2011.
Simon & Schuster Books for Young Readers, 2010. 36 pages.
Starred Review
This book makes me laugh. I admit, I would not want to use it in a library storytime, for fear of scaring a child too young to understand that it's a joke. However, parents will know at what age this will make a fun cautionary tale.
Once there were two perfectly delightful children who were going through a TERRIBLE phase, which is to say they whined ALL day and night....
Their kindly father warned them that monsters eat whiny children. They didn't believe him. So they whined and whined until finally one day...
a monster came and stole them away.
The monster begins by making a whiny-child salad and pours dressing on the children. But his wife hates cilantro, so they have to start over. A neighbor comes over and suggests whiny-child burgers. Something goes wrong with each suggestion. Sharp-eared children will notice that the monsters are awfully whiny themselves.
Meanwhile, while the monsters are whining as each of their plans doesn't work, the children get distracted and stop whining. Finally, the monsters hit upon the perfect treat: whiny-child cucumber sandwiches. But when they look for the children, they have escaped. They have to eat plain cucumber sandwiches (recipe included).
It's so easy to imagine a "kindly father" reading this book to his children and maybe, just maybe, getting them to think about what whining sounds like and stop. The author never comes out and says that the monsters are whining, but it's quite clear that nothing pleases them, and their constant objections are what allow the children to escape.
Children will enjoy the thrill of danger in this story but delight in the escape. And maybe, just maybe, they will be a little quicker to stop the next time their kindly parents point out that they are whining.