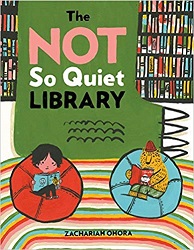 The Not So Quiet Library
Review posted November 26, 2018.
Dial Books for Young Readers, 2016. 32 pages.
Starred Review
Review written in 2017
This book definitely leans toward the silly side, but it features a library, so what's not to like?
Every Saturday, Oskar and Theodore got up bright and early.
Not to watch cartoons, or play outside with their friends. It was the day they went . . .
. . . to the library with Dad!
Once they get to the library, they go to the children's department while Dad goes upstairs to "the nap department."
[No, no, no! Don't leave young children unattended at the library unless you'd leave them unattended in a mall. Of course, this book bears out that something bad may happen to them. . . .]
In the children's department, a five-headed monster attacks! When it finds out that books aren't for eating, it decides it will eat Oskar and Theodore.
Fortunately, the librarian saves the day with a story time. "Luckily, monsters like story time as much as they like donuts."
[Please note that this is a lovely sentiment and I applaud that kind-hearted librarian, but I feel compelled to warn you that at our library, if you leave your children unattended, the chances are good that we will let a monster eat them. Sorry, but that's how it is....]
There are lots of delightful details in this book. My favorite is the picture of Dad tying a pile of books to the top of their car to go to the library. The inside of the car is full of books, too. They leave the library the same way.
It's all just so silly – but such a nice celebration of libraries.