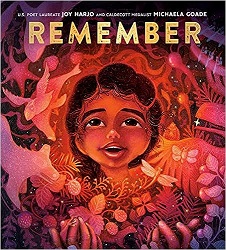 Remember
Review posted August 21, 2023.
Random House Studio, 2023. Poem first published in 1983. 40 pages.
Review written March 29, 2023, from a library book.
Starred Review
In this stunningly beautiful picture book, Caldecott Medalist Michaela Goade took a poem by U.S. Poet Laureate Joy Harjo, and made it come alive with symbolism and imagery.
The poem that forms the backbone of the book tells us to remember how we are connected to the earth and to the sky and to each other. Beautiful and inspirational.
And then the images show traditional Tlingit creation stories and a celebration of Tlingit land and culture. Michaela Goade talks about the great thought and care she used in creating the paintings at the end of the book.
Additionally, in imagery such as the moon, the sun, and certain animals, you'll find elements of formline design, the traditional art style belonging to many of the Indigenous Nations along the Pacific Northwest coast, including the Tlingit. Formline is a unique, complex art form imbued with cultural meaning, history, and protocol; in my eyes it is a true "alive poem."
This is a book you'll want to read again and again, and each time you'll find more things in the words and images. I love the way the stars seem to glow -- and they actually do with goldleaf on the cover of the book.
This one you really need to see for yourself! My descriptions don't do it justice.