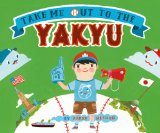 Take Me Out to the Yakyu

Review posted November 13, 2013.
Atheneum Books for Young Readers, New York, 2013. 40 pages.
This picture book shows a boy attending a baseball game in America with his pop pop and a baseball game (yakyu) in Japan with his ji ji. In parallel pages, you see how the game unfolds at the two different places – what's alike and what's different.
I thought this was fun, because my son got to attend a game in Japan when he was in middle school, and one of his comments was about all the noisemakers in Japan. Sure enough, in this book, the boy's pop pop gets him a giant foam hand, but his ji ji gets him a giant plastic horn.
There's a glossary in the back, in case you didn't catch what all the Japanese words meant, as well as an author's note explaining some of the differences.
I've always liked seeing what little everyday details are the same or different in different cultures, and this book is full of that in the context of a baseball game. Here in Fairfax County, several local elementary schools have Japanese immersion programs, and this book will be perfect for those kids.